So as some of you guys might know on July 29th I went to my first YALC!
YALC (Young Adult Literature Convention) is an event started by Malorie Blackamn – the author of Noughts & Crosses – that is made for all of the amazing book lovers and readers in the UK. It's held at the same time as LFCC (London Film and Comic-con) and in the same venue so with a YALC ticket you actually have access to both events at the same time!
A wide variety of publishers have their own stands at YALC – giving away loads of freebies, books with giveaways announced via twitter and food – I got popcorn from the Little Brown Books stand within the first five minutes!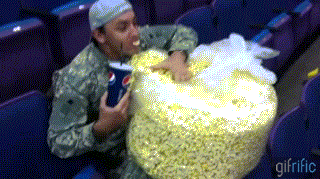 (okay maybe not that much but still enough!)
Obviously there are also loads of panels and amazing authors you can meet (and get signed books from!) throughout the three days as well.
I went on the Friday this year because one of my all time favourite authors (V.E.Schwab) was going to be there and I didn't think I would ever get to see her after that – but about two weeks after my ticket was booked the dates for her UK tour were released and guess what? She was coming to Bristol! So naturally I decided I would be meeting her twice because seriously I love her books!
My dad's car got a flat tire while we were filling up petrol and we were already running late! On the outside I was pretending to be completely chill because hey my dad was already driving me all the way to London so I couldn't really complain… I felt a little bit like Lemongrab here
In the end I was late for the Lisa Williamson signing but I caught her just as she was packing up her things and we had a nice chat about the fact that I was over an hour late – not embarrassing at all!
My next panel / signing wasn't until 1 so I had a lot of time to kill. My friend and I went around the different stalls picking up loads of freebies:
which was great fun because I was in dire need of both bookmarks and badges! I think my favourite things have to be the two signed Leigh Bardugo bookplates which I got off of the Books With Bite stand because I seriously love her writing and she is also one of my favourite authors!
I ended up going to 2 panels all in all – my first one being the A Monster Calls: Patrick Ness one. I did miss the first 15 minutes or so because my sister wanted me to get Geek Girl signed for her by Holly Smale which was quite funny when she found out I had never read her books because she pretended to kick me out of the signing line and a girl behind me looked really shocked for a moment thinking she was being serious!
The Fantasy London panel with V.E.Schwab, Samantha Shannon and Ben Aaronovitch was back to back with the Patrick Ness one so because I really didn't want to miss this panel my friend went out to the queue for the Patrick Ness and Lewis MacDougall (the main actor) signing which was so long! She took pictures and seriously that queue was huge but because she hadn't read any of the Fantasy London books she really didn't miss out on much. (Apparently Patrick Ness jokingly told my friend that our frienship was extremely unhealthy because she took about 6 of my books to carry along with all of hers to the signing but I mean what are friends for?)
I left for the audience Q&A bit of the last panel because I knew the V.E.Schwab queue was going to be insane and despite the fact I got there 15 minutes early it was already nearly halfway down the convention hall! At the same time my friend took my copy of the Bone Season to get signed while I held her V.E.Schwab books for her. We had a really funny conversation about our opinions on Paris and preferring the rest of France a lot more because both of us had a lot of family in France!
We did visit LFCC for a bit but didn't spend too long down there because I'd lost £10 earlier on that day so I had no more money to spend there 😦
The last signing of YALC for me was the Michael Grant signing which by the time I'd finished at V.E.Schwab had mellowed down a lot (thankfully!) but I was so tired I ended up sitting on the floor while talking to him for a lot of it. We talked about his time in France as well (this topic seemed to pop up quite a lot at YALC) because yet again France was something we had in common as he lived there for a few years while his dad was stationed there.
All in all it was an amazing day and I honestly can't wait to see if I can go again next year!